Nov 11
26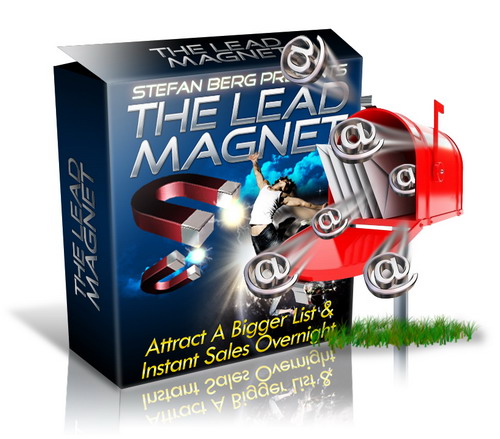 There is a Lot Said about Viral List Builders – Some say it is hard to Get Targeted Leads or Any Leads at All… Some say it is a Great Way to Build Your List – Let's Review One of the Best in the Industry The Lead Magnet

What is a Viral List Builder? & Are They Worth Your Time & Effort?

Viral List Builders are The New Generation Safelists. They are proven to give the members, higher conversion and better overall results. Easy Explained Viral List Builders are a Platform where you can Advertise to other Members by Sending Emails. Members can Place Banner – Text – and Login Ads in the System – benefits that will get the members Maximum Exposure of their Business.

Viral List Builders is Credit Based – which means You Earn Credits when you Read Other Members Emails (clicking a creditlink inside the email) – click on Text links and Banner Ads. The Member can Use these Credits to Advertise. An Effective System that makes Members Stay Active to Be Able to use the Program.

Viral List Builders can be a bit Overwhelming and Confusing if the Concept is new to you. But When you get A Grip of it you will see there is a Easy and Effortless way of Advertising and Get New Leads to your Own List. Take your Time and learn the Tricks with Viral List Builders and you will Make The Most out of them.

What Makes The Lead Magnet Stand Out? Is The Lead Magnet just Another Viral List Builder?

The Lead Magnet is much More then just a Viral List Builder!

The Lead Magnet's (also Referred to as TLM) Platform is a Combo of Listbuilding – Give Away and a Membership site. TLM has kept a Unique touch and has Put in Features Like Video Training – PLR Areas – Biz Areas (Based on your Membership level) - Coaching and So on…

The Lead Magnet provides:

Email Service (250 – 10 000/2 or 3 Days)
Solos Ad service – Send To All Members
Full Page Login Ads
Banner Ads
Text Ads
Login Ads
A Giveaway section
PLR Area (Private Label Rights)
Video Instructions & Training

In a Way You can Say that the TLM gives you Access to Their List of Members. Depending on the Upgrade you choose when you Join you will get different Benefits and Power to your Advertising. As a Non Paying Member you can reach 250 members Every 3 days – with the Upgraded Membership Levels you reach a Lot More Members – 2500 – 10 000 Members Every 3 days (highest Upgraded Level can send Every 2 days). There is still A Lot of Benefits as a Free Member and after starting out you are still able to Upgrade (but at a higher price then if you choose one of the One-Time-Offers when you sign up).

You can Earn Money with TLM – You get Paid for the Upgrades you sell to your Referrals in TLM. All it takes is One Referral to Earn up to $198 if they chose to take the Highest Level of Upgrade (Iron Man).

The Lead Magnet has Instant Payout! You Don't have to wait 30-60 days to get paid which is most common in this Industry. There is no Minimum payout – your sale goes directly to your Paypal. This is a cool Feature and Highly Appreciated – ALL Members get 100% on Every Other Sale (the highest Level of Upgrade 2/3 Sale). This is Unique in this Industry – when almost All programs chose to pay much less to a Non Paying member TLM has chosen to Benefit their members Equally. As the Owner Stefan Berg says: "- We Believe that the Worker has Earned his Wages"

The Owners Responsibility in a Viral List Builder is to Bring in New Members – Continuing Add New Features to the Site – Keep up To Date in the Industry Even Better – Stay Ahead of the Competition in the Industry Viral List builders is a Great Adsource for You to Use when it's Done right – The Lead Magnet has Proven to be one of the best!

Recent Statistics from TLM (November 10th 2010 – June 10th 2012)

* More Then 9 900 Active Verified Members (more then 14 500 Opt-Ins)
* Paid Out over $60 000
* Ranked #1 – 40 weeks at Traffic Hoopla
* Ranked Top 3 – 68 Weeks at Traffic Hoopla
* Top Score in Alexa 7 000
* An Average in a 3 month period around 20 500

The Lead Magnet has a Good Reputation of being an Active Membership Site. Their Support is Top notch and you Always get a quick Reply within 24 hours Usually much quicker when TLM has Working hours (9am – 23pm +12 hours EST)

It is Easy to connect to the Owner Stefan Berg through different Social Sites as Skype – Facebook – Twitter – which makes it Easy to stay Updated with TLM.

Here is some information about the Owner:

Stefan Berg is a Well known Internet Marketer from Sweden who lives in Borneo – Malaysia since 2009. With his Wife Catarina Berg he runs TheLeadMagnet.com. With more then 6 years Experience in Internet Marketing he Now Works Fulltime Online and Makes his living Online. He is also Owner of StefanBergs.com and ListBuildingMadeEasier.com

See What Other Internet Marketers Says about TLM and Stefan Berg
Testimonials

Enjoy!
JVZoo Product Feed